The traditional medium used for the jets in a fountain is water. With the development of science and technology, as well as a shift in people's traditional perspectives, human thinking has become more creative, innovative, and imaginative.
Water feature designers have introduced fire into the design of water features, creating a unique landscape that blends water and fire. Fire and water are not enemies anymore.
With Himalaya's magic, they appear hand in hand like a torch. Water is the handle and Flame on top. Miraculous and exciting.
A fire fountain, also known as a water fire fountain or a fountain with a fire feature, is a type of decorative element that incorporates fire and water. It is designed to create a visually stunning and dynamic display. As a leading fountain manufacturer, Himalaya offers a wide range of fire fountains, including the mesmerizing musical fountain.
Fountains with fire features are mainly used for various kinds of music fountain effect performances and various large outdoor performances, activities, programs, etc. They can also be found in indoor settings such as large atriums or commercial buildings.
These fountains spray water and fire in a synchronized manner, creating a spectacular and shocking display that pushes the performance effect to a climax.
The fire component of a fire fountain is usually created using controlled gas flames or specially designed fire features. These flames can be colored using various chemicals to produce vibrant and eye-catching effects. The water jets are synchronized with the fire to create a harmonious display.
Fire fountains can be designed in various shapes and sizes, ranging from small tabletop versions to large-scale installations. Some fire fountains incorporate additional elements such as LED lights, music, or timed sequences to create a more immersive experience.
Using water-resolvable safe fuel, Himalaya fire fountains can give a spray height of up to 8 meters. These fireballs pop up with music, bringing tremendous brightness and surprising the audience. People are left in awe and yell with excitement at the sight of these mesmerizing fire fountain displays.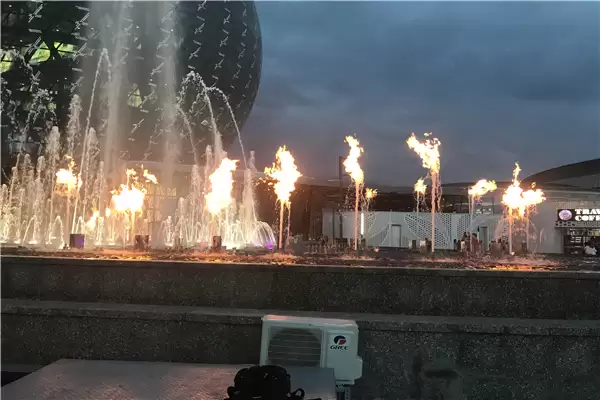 It's worth noting that fire fountains require careful design, installation, and maintenance to ensure safety. They should be constructed using fire-resistant materials, and proper safety measures should be in place to prevent accidents or fire hazards.
Technical Parameter for fire fountain
Technical Parameter
Material
Stainless steel 304
Connector Size
G1/2″
Install Method
Vertical
Working medium
Special organic solvents
Working pressure
0~6Mpa
Environment Temperature
0~50℃
Total weight
About 24Kg
Voltage
Ac230V
Power
200W
Spray height
4~5m
Quantity of flow
About 8l/min
Insulation class
B
Fire Fountain Installation and Operation
The water fire fountain, developed by Changsha Himalaya Music Fountain Equipment Co., Ltd., is equipped with a self-developed control system.
The entire system can be divided into three main parts: the control system, the pipeline, and the fire spraying device.
The schematic diagram of its structure and installation is shown below:
1. Installation standards and construction specifications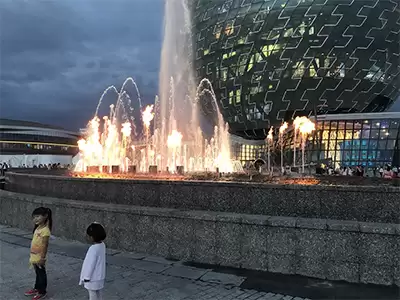 2. Precautions for equipment installation
The pipeline connecting the fire fountain system, air tank, E-STOP valve, and pressure reducing valve generally uses seamless steel pipes. After the connection is completed, pressure testing must be carried out to ensure safety. Pay special attention to the pipe size connected to the fire fountain system, which should use an inner diameter of 25 pipes. The remaining parts can be slightly smaller according to the site conditions.
The layout of the connected pipelines should be as reasonable and aesthetically pleasing as possible, especially for the pipelines connected to the pool. They must be concealed and consider being embedded in the pool bottom during the initial stage to enhance aesthetics.
The depth at which the fire fountain is placed in the pool should submerge the gas pipe and be positioned below the spray nozzle, slightly closer to the side of the cylinder.
The core structure of the control system is a control box, which has independent four-core sockets connecting to various fire fountain devices, a socket for connection to the computer, a power cable for the control box (using 220V), and a signal line socket connected to the E-STOP (also four-core, with the same plug and socket style as the fire fountain).
Manual Control Operation on the Control Panel
The panel has two horizontal rows of buttons, with each vertical row corresponding to a fire fountain system. The upper row is the start button, and the lower row is the fire spray button.
To operate, press the upper row button and then click the corresponding button in the lower row to initiate the fire spray. There are two key slots on the panel, one for the box lock and one for emergency shutdown.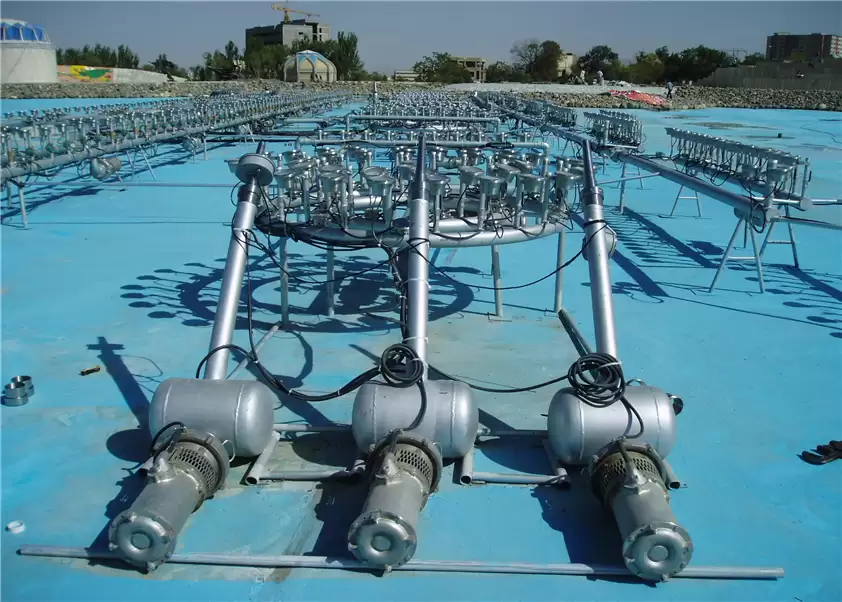 Seal the small holes exposed on the circuit housing with high-temperature waterproof sealant, but leave drain holes at the bottom.